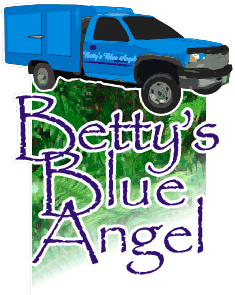 Home
How to Help
Community Comments
Contact Betty
Betty's Story












How can I help?


COMMUNITY SUPPORT
Betty is able to do so much because she is backed by a small community of people who help by giving what they can. What started as one woman's paycheck has grown like a vine to include people from all sections of society. One man donates boxes of new wool socks when he can. Sometimes bags of lightly used clothes arrive unannounced at her house. A handful of local businesses donate what they can, some weekly, some daily, others whenever Betty needs a bus ticket, a hotel room, or something else for one of her people. As Betty likes to say, she is the 'middle man', simply helping people realize the joy of giving and making sure everyone gets what they need.

As the need for services continues to grow, Betty has started to work with a small group of community members to free more of her time to spend with the people she so passionately strives to help.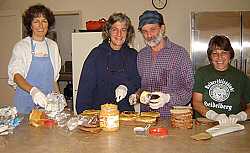 Members of the group spend two mornings a week cooking with Betty at a local church, in addition to trying to help streamline her donation process, making it easier for people to support Betty. With Betty's tireless example, it is the group's hope that this will soon be the community's mission.

ACCOMPLISHMENTS
With community donations, a commercial catering truck was purchased in 2006, allowing Betty to meet the legal requirements of serving food to the homeless. Currently, several area churches, including St. Vincent de Paul and the Eureka Presbyterian Church, generously support Betty's efforts. They allow our volunteers to prepare meals in their kitchens, and share other resources when possible.

VOLUNTEERS
In the last few years, a growing number of people have been stepping in to help with the work that Betty started over 20 years ago.

NEEDS
As the number of people being served increases, so do our needs. We are seeking:

VOLUNTEERS to help with shopping, cooking, serving, organizing donations, etc.

MONETARY DONATIONS to purchase items. One-time donations, as well as monthly sustainers, are greatly appreciated. Betty's Blue Angel is an independent project supported solely through donations.
"STUFF" such as clothing, sleeping bags, blankets, food, diapers, paper goods
NO overhead costs
every penny donated goes directly towards helping those in need.
ALL DONATIONS ARE TAX DEDUCTIBLE!
BETTY'S DONATION NEEDS:

FOOD

Peanut Butter/Jelly
Baby Formula
Ensure Milk
Pasta/Macaroni
20-50 lb. Potatoes
Canned Ham
Brown Rice
Sliced Cheese
Mushroom soup
Spaghetti Sauce
Canned Veggies
7 Bean Soup Mix
Cans Tuna/Chicken
Dried Beans

OTHER

33 gal. trash bags
Blankets
Socks
Sweatshirts
Flannel sheets
Gas money; Vouchers
Diapers
Ponchos
Blue Tarps

Important: Donations are gratefully accepted, but please do not engage in door-to-door fund raising on Betty's behalf. If you are involved with any fund raising event which benefits Betty in any way, please make sure to discuss it with her ahead of time to make sure she is comfortable with the circumstances.

Make checks payable to:
St. Vincent de Paul Homeless Fund
Betty Chinn
P.O. Box 736
Eureka, CA 95502
Or, donate through Humboldt Area Foundation.